It is Week 4 already! I have been working on several fun projects about clothing, music and food. On Tuesday, Mazz brought a record player with her coffee hosting at Impact Hub. You can have a lucky dip form the record box, and listen to it while waiting for your coffee. I never use a 7" record player before, this is very interesting and a chance to experience how people listen to music in the past. Another day, a member of Impact Hub carried a pan with him, this is a music instruments called 'Tongue Drum'. It sounds very similar to 'Hand Pan' but in smaller version. I love it so much, such a cute pan to play with wherever you are! After playing those music through out the morning, I have a great vegan lunch at The Warehouse Cafe - Halloumi Fish and Chips, this is heaven! Of course afternoon tea afterwards as well.
話咁快就第四個星期啦,工作上做緊幾個唔同類型既project,有關於時裝/音樂/飲食。係星期二,Mazz帶左個7"黑膠唱片機,我地等佢整緊咖啡時可以任意抽一隻聽。大既12"黑膠就成日見,但我第一次真係攞上手播7"既唱片。之後另一成員就帶左個鍋返黎,銀色一個大鐵波原來係樂器叫 'Tongue Drum'。聽落既聲同原理都同 'Hand Pan' 好似,只係體積細D咁解,好過癮帶住佢去邊都可以玩。之後午餐就去左間我們俗稱素菜館,Fish and Chips 但個魚既由希臘芝士Halloumi做成。Halloumi神奇地好味一試上癮,如果未試過又鍾意芝士一定要試,好多pub都有Halloumi Burger。最後仲有個afternnon tea - cakessss。
Then, I worked in a vintage fair at The Night Owl on 25th October Sunday. There were different vendors of vintage clothes, vinyls and home accessories. People who came to the vintage fair dress very 60s/70s, such as Mod / patterned dress and bohemian style. It just like an afternoon party full of the best bits back in there, people are friendly, unique gems, nice music and good food. What more can you ask for on a cozy Sunday?
You don't have to feel gutted if you missed this, there is another one coming up on 29th November Sunday, just make sure you drop it down in your diary!
到星期日仍需努力,係The Night Owl 有vintage fair,當日好彩有師妹黎手set up,很好多vintage衫,黑膠唱片同復古家具。參與人士好多都著得好襯既主題,主要係60/70年代既style,好似Mod,花花裙同波希米亞款。氣氛同參加既人都好好,比起平時係街既人有善得多,可能因為大家係同一係興趣人都和善D。
如果你想黎體驗一下,11月29日星期日仲有另一次,想黎記得mark係日記啦!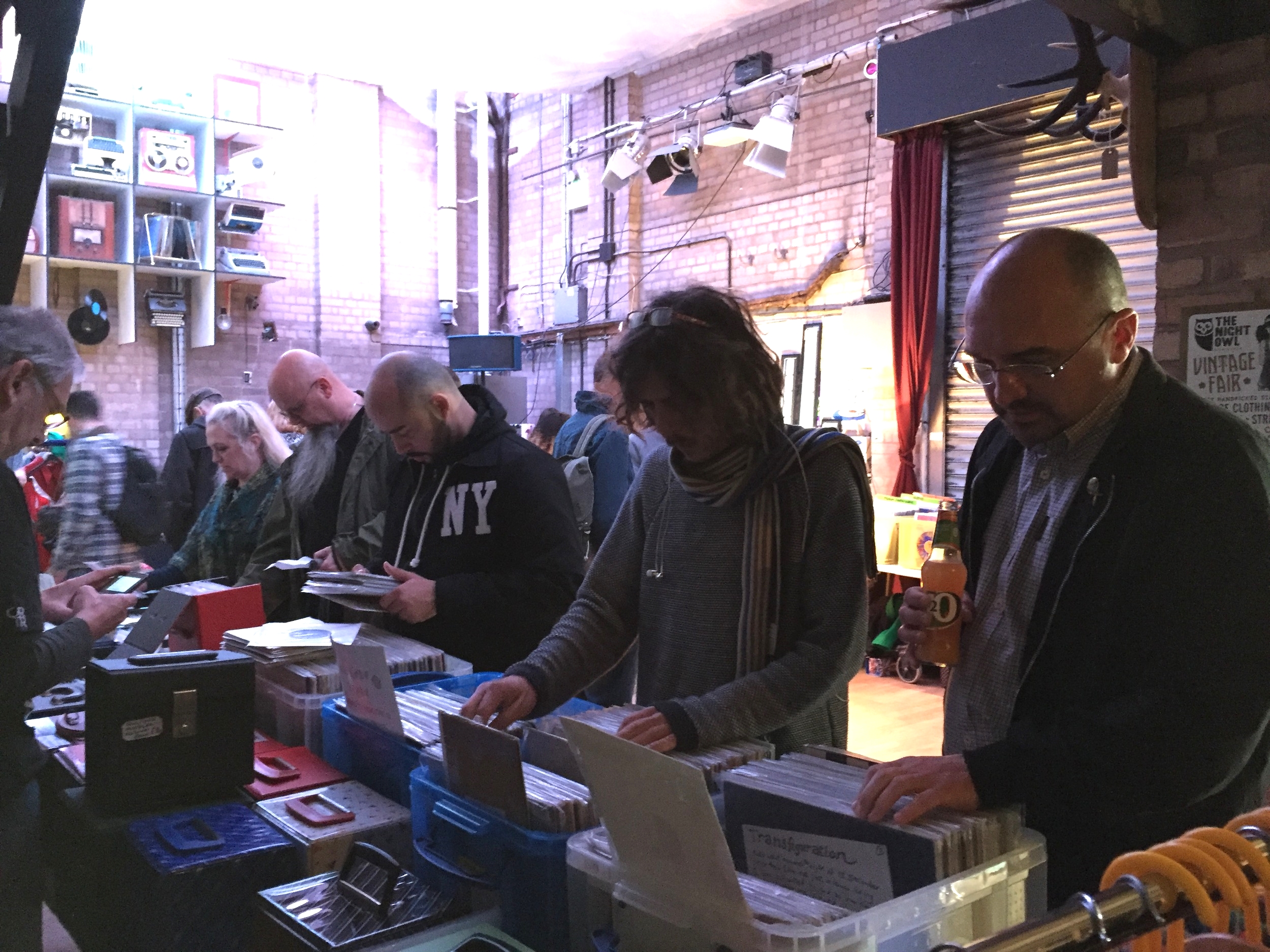 That's the end of this week, let's have a whole box sushi from Wasabi for weekend ;)
咁就又一個星期啦,食下壽司先,Birmingham終於有Wasabi 啦!!